I call this one the HO STOP! edition.
Erica Mena – Where Do I Go From Here?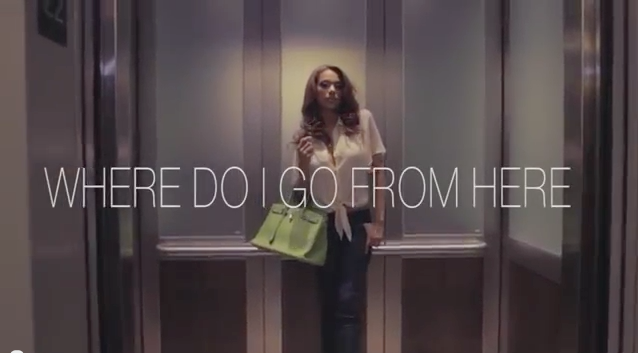 Erica Mena really captures the essence of a painful breakup in this video for her single, Where Do I Go From Here?
You know the kind of breakup that's so painful, when you come home to your hotel room apartment,  sit at the desk, plop down your fake Birkin bag, pour yourself a glass of Henny (that's stored on your desk next to perfume and shit because that's where you keep it) to relax but you can't relax because you find a note from housekeeping your lover and you are so SHOCKED and so ANGRY so you walk sexily to the bathtub where you turn on the phallic faucet and climb into the tub with all your clothes including your janky denim leggings in an attempt to wash away the crippling pain of such a significant loss.
The sadness just overwhelms you, so you unbutton and restyle your blouse to expose your crazy huge fake tits so that the healing waters can cleanse you.
Then you finally take your pants and shirt off but you just unfasten your bra but keep it on and then splash around angrily in like three inches of water until you feel better?
But then you are like NO, NO…… IM STILL DIRTY so you strip down and stand in your see through shower butt ass naked holding your tits against the glass while you spin around and cry?
Yeah this is your video. She NAILED it. She's the (auto-tuned) voice of a generation.
In addition to capturing the true essence of heartbreak, she also has a MESSAGE!  Call GLAAD because it turns out after all this time (the longest 5 mins in video history) it wasn't a man who broke her heart it was some lady named Sal. Cause lesbians catch feelings too. And they also pay for executive produce your videos.
But the question remains, where should she go from here? I'm not sure where she SHOULD go but I can tell you where she SHOULDN'T go….the studio. Stay out that bitch.
Tahiry – Devil
When Tahiry isn't complaining about Joe Budden on TV she's at home writing songs about him like this one called "Devil."
This bitch couldn't find a melody in the dark even if it was written in glow in the dark ink and she had a flashlight but I give her props cause she's brave enough to let her voice ride. She's not auto-tuned into oblivion and she had the sense to add an actual vocalist on her hook.  With that said, this is a basic ass video and includes absolutely no jabs on Budden's facial hair which seems like a lost opportunity for Tahiry. I just hope that dude in the final scene is her stylist cause whoever put those clothes on her needs to be burned. Quick.
ATTN:  EAST COAST RAPPERS when talking about women, please stop using the Bugatti metaphor it's more played out than the Maryjane metaphor.
And of course we can't continue without talking about Miss Lore'l….
Lore'l – I'm A Problem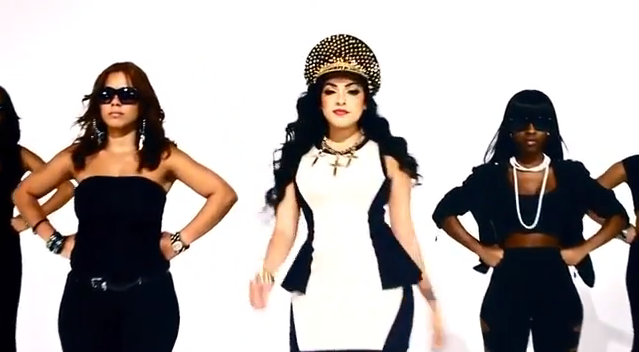 A "problem" indeed, Lore'l. First and first mostly, who the fuck names themselves after a drug store make up brand? That ain't hot ma. Should have went with something classier like NARS or Bobbi Brown or MakeUpForever. It's hard to take her serious in that little spikey captain's hat. She's like a walking-talking-rapping Brat doll.  I'm trying to find Lore'l so I can sign her and take her on the Glitz Beauty Paegent circut. She's got the outfits, the spikey hats and the "talent" portion all worked out. We have to work on her beauty walk but I think we could go places.
In Other News …
The homies Serg & Soft Money had me on Stay Hatin' this past weekend. It was a blast as always. We chat about Fat Trel, Instagram, the painful truth about Bun B's personal life and rap songs we enjoy. Serg & Soft Money also play a shit ton of new regional raps. Peep the episode via your favorite Podcast delivery service.
I'll be at the San Jose Improv on April 7 and the San Francisco Punch Line April 9. For more info on these and other stand-up appearances click here.