I really hope that someone followed Renee Zellweger last night sassily exclaimed, "I'll have what she's having" at least one of the times she stumbled or smiled weirdly while attempting to keep her eyes open, focus, walk/stand and talk simultaneously. I feel pretty confident that bit would have SLAYED all night long.
And now for a feature I like to call
YOU'RE DOING IT WRONG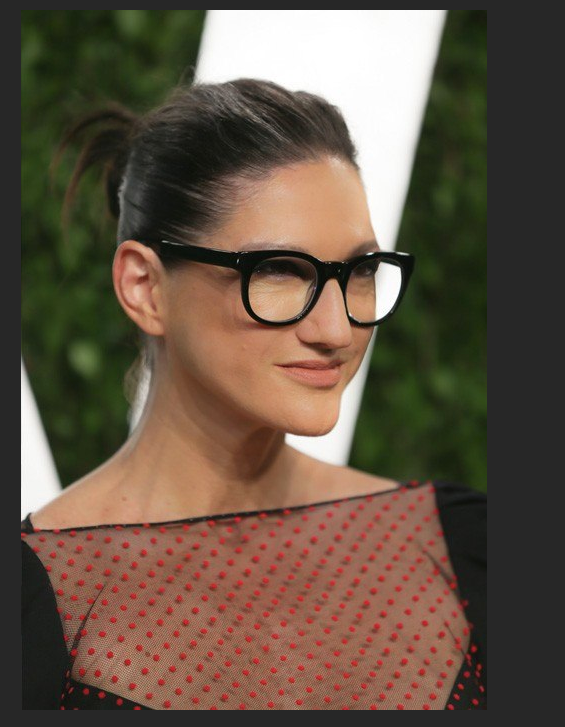 JENNA LYONS
If you are saying "Who the fuck is Jenna Lyons?"  don't feel bad.  I had to Google her immediately after seeing this image and thinking:  THIS is how you wear your face and hair to the Vanity Fair Oscar party?
Turns out Jenna Lyons is the President & Executive Creative Director at J.Crew. OF COURSE…she's a CREATIVE DIRECTOR, she HAS to wear those glasses to show everyone else how dedicated she is to creativity and design excellence.
Jenna is balling out of control so I KNOW she has a pair of contacts. Wear them bitch. This is NOT a night for those ridiculous glasses. There is no award for most hipster at the Hollywood party if there was Diablo Cody would still be relevant. Bottom line: Even power bitches deserve a night off.  PUT IN YOUR CONTACTS AND LET YO' HAIR DOWN GIRL!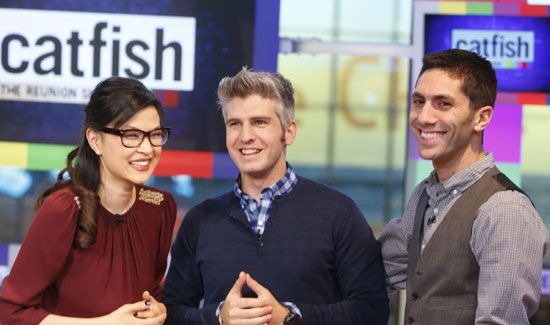 Speaking of big dumb eye glasses, MTV dusted of Suchin Pak and trotted her into the glass walled 1515 Broadway studios for the Catfish TV Show Reunion. They dressed her in a tragically hip combination of high water harem pants and your grandma's best Sunday shirt. They topped it off with a pair of those dumb ass thick rimmed glasses. I want to start snatching them off faces and smashing them like cops do drugs.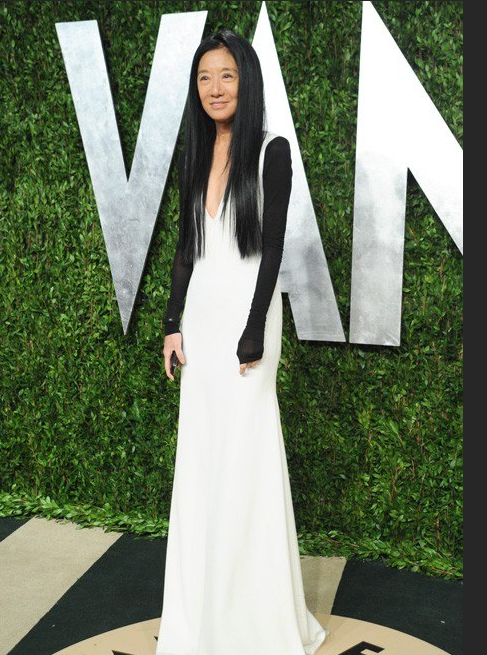 is it just me or is vera wang slowly turning into that bitch from the Ring?
Ugh a jump suit. NOT A THE OSCARS! Pants are NEVER OK for formal events.  If you are an actual man or Chaz Bono level butch, wear all the pants you want. You are not a man You are not Chaz Bono. YOU are Marisa Tomei. God didn't give you that amazing 40 year old body so that you can wear a damn jump suit to an Oscar party. I don't care how sparkly it is.
On a professional note — Are you purposely trying to remind Hollywood that you are an actress OVER 40? The only thing keeping you from going full Golden Girl  in this jump suit is some chunky coral or pearl jewelry.
I'm not saying you have to wear a ballgown….just put on a dress. Damn.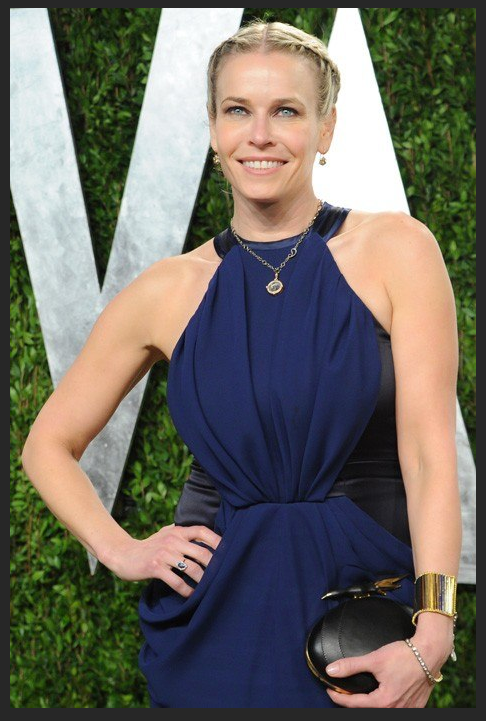 Chelsea Handler should fire the assistant who sent her the Pintrest board full of "elegant braided up dos" to consider. This look puts puts so much pressure on her face….her wrinkly, not aging well face. A sexy tousled loose flow-y curl would have hidden those crows feet and helped kill the weird pointy shadow wrinkles on her neck.
Cool Videodrome dress though – how many video tapes can you shove in there?