Brian McKnight you are NOT RKelly.
Stop playin'….No one wants to hear you literally singing about pussy. Kells is the master because he doesn't say "Did you know that it squirts" he uses a metaphor like a goddamned professional. Now go back to singing bullshit for soccer moms and keep your wrinkly forehead out of the sexy R&B game. Damn.
Memories

My Dad recently gave me four smelly, musty boxes of what I anticipated to be bullshit momentos from his youth to sort through and organize. To my surprise there ended up be some GEMS. Amazing photos of my parents as children, report cards, army pictures, pictures of doobied out relatives from the '70s and some OG hater shit from my Dad. I'm gonna be sorting through this junk and posting up some of the better shit. Like this….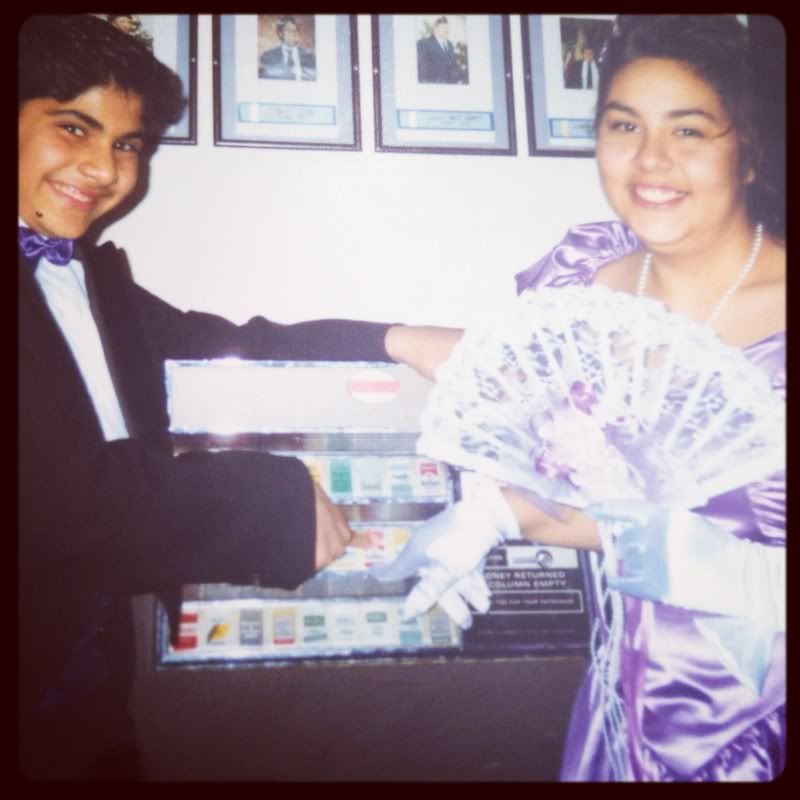 Taken at a my friend Amelia's Quincieñera around 1990-1991. I'm 13 or 14. His name is Adolfo. We are emphatically pointing to Marlboro Reds on a cigarette machine. I have NO idea which adult asked us to pose like this.  I mean seriously, who does that…."Hey kids, stand by this vending machine for death and point to your favorite brand. Oh and smile!" I'm holding my fan like that because I'm embarrassed by my prematurely huge rack. I walked around like that all night covering my clevage. Two weeks later, I kissed Adolfo on the lips at a bus stop after school. Two years later, he told me he was gay.
This photo was taken approximately 4 hours after said Quince. I'm pretty sure my Dad took this one. He really took pride in capturing those special moments. Fun facts about this photo:
1. I shared a room with my 2 year old brother.
2. That IS a Keanu Reeves collage next to my bed.
3. Yes, I DO have white satin bedding.
Facebook is the New MySpace
First it was hella event spamming, Then it was tagged ads and porn links. Then it was forced Timeline. Now it's unsolicited "Other" messages from fucking weirdos. What's that? You've not gotten any other messages from fucking weirdos? Oh well let me share this one with you.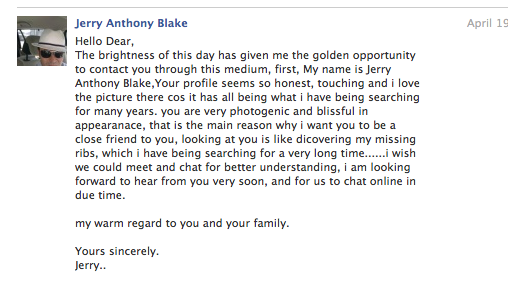 The most disturbing part of this message is when he compares finding my profile to finding his missing ribs….which he has been missing for a while now. Is he telling me that he has no ribcage? That he's a bag of man meat just sitting in a chair? Or is he trying to tell me he's Adam…the original man who lost his rib to make Eve? Am I Eve? Fucking creeeeepy. Another disturbing fact, he finds my profile "honest and touching." I don't know if he's on the right profile because 95% of my profile is profanity, pictures of shitty comedy shows, weird inside jokes, RKelly lyrics and odes to weed smoking.
Do You Want Pancakes?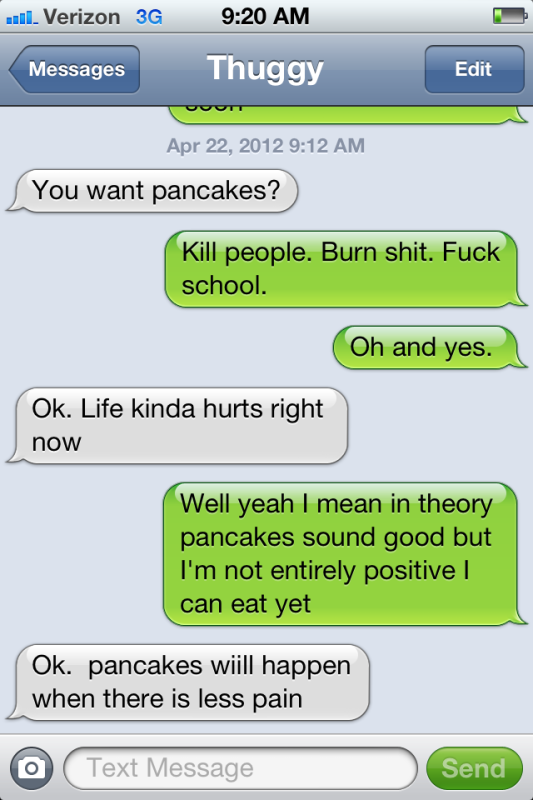 My buddy Thug E Fresh is pretty much the best/worst person to chill with when you are feeling down. He'll get you drunk, make you forget and laugh your woes away. Then you wake up the next day at his house feeling like someone put your insides into a Vitamix and poured them back down your throat with some Ipecac before you went to sleep. Right before you are about to swear death upon his house…he offers to make you pancakes. Thuggy fed me bacon like ice chips, made me Peppermint tea, pancakes, eggs and then drove me home in a convertible bumping UGK and Too $hort once I felt human again. So yeah….FUCK YOUR FRIENDS. MINE ARE THE BEST.
In Other News….
I am performing with the delightful Marga Gomez in Marin next month. It's a stellar line up of very funny, very smart ladies. Come out.