Facebook Event Page prompts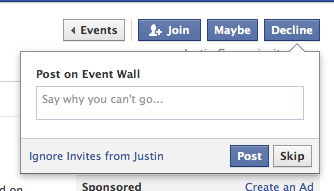 You know what fucking sucks? The "Say why you can't go…" prompt on Facebook event pages.  This dialog opens when the decline button is pressed and passive-aggressively guilt trips invitees into leaving shitty comments on your event wall. Then you end up with a stream of "Oh, I can't make it my dog has AIDS" and "I live in Utah, this is in SF." and "Can't make it I have mime class on Thursdays" which makes it look like your event is gonna be balls. Folks – please know you DON'T HAVE TO FUCKING SAY WHY YOU AREN'T GOING. Just hit decline.
Also event planners don't just invite FUCKING EVERYONE in your address book. Skim through, invite people who would actually give a fuck. Stop spamming.
The Oscars
Hating on the Oscars is like calling Oprah fat. Everyone does it. It's borderline hack but of course as a comedian I HAVE to tweet about suck events. For those of you who DON'T follow me on Twitter (and duh, you should!) here are a collection of my favorite Oscar Tweets.
Be sure to follow these people if you aren't already.
And be sure to follow me @hatertuesday
When Rappers and Comedians text…