Drink Some Fucking Water Already
Mio Liquid Water Enhancer - Water enhancer? Who the fuck is buying this? Are you people fucking six? Does water taste "yucky" to you?  What do you mean, it doesn't taste like "anything?" Why don't you just drink a glass of water like a goddamned adult? It's got to be fucking pink or purple or blue or some other not natural color in order for you to be interested in drinking it?!!  I hate you. I hope Kraft gives you cancer. Asshole.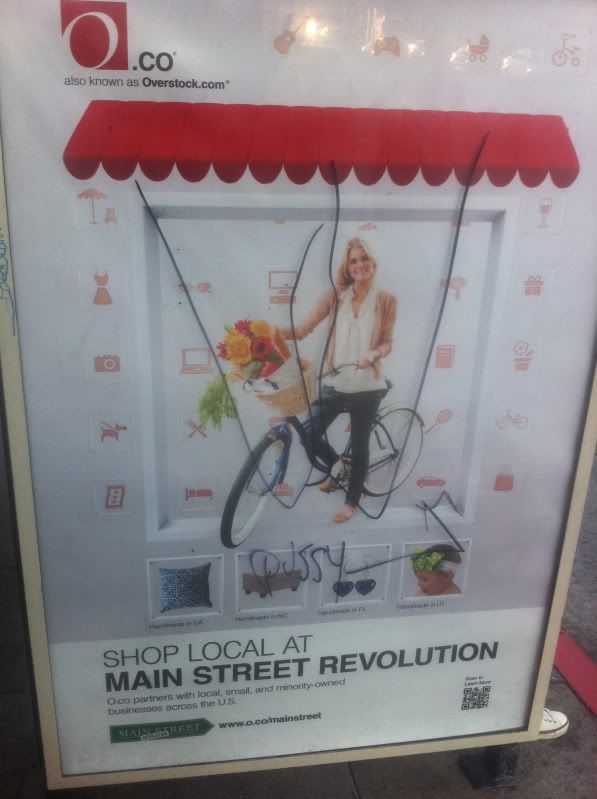 Racism is Real and the Future of Tagging
At first I took a picture of this bus shelter ad because I liked the graffiti. I mean come on how can you not giggle at a big cartoon vagina with an arrow pointing to it and the word PUSSY hastily scrawled next to it. I love the new generation of taggers. They are all about humor. Last week, I saw an ad for REI while waiting for the bus that had a man climbing an "urban" landscape. In big capital letters someone had written, "This nigga got NO business in shorts." I couldn't stop laughing and then the bus came so I didn't have time to snap a picture. I still hate myself for not getting a pic. Anyhoo, like I was saying I took a pic for the graffiti but I stayed for the ironic marketing message.
At the bottom of this ad we see this: "O.co partners with local, small and minority-owned businesses across the U.S." which made me want to scrawl in some additional text that reads: "But we still prominently feature Aryan blond women on bicycles in our ad campaigns because we understand that white people have money and minority skin tones make them feel less in the mood to spend"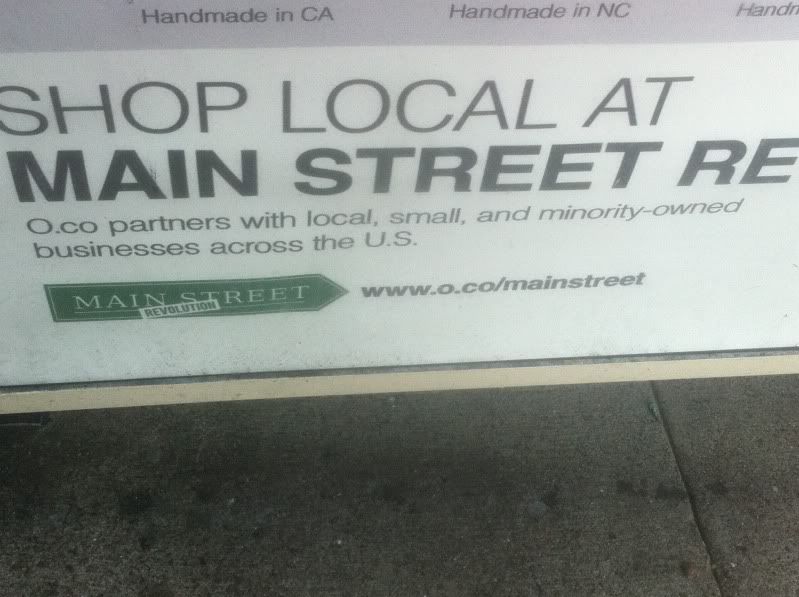 You're Bitchmade, I'm a Boss
Exhibit A: On weekends, I MC cannabis expos and then smoke weed in front of City Hall AND Oakland Police Department
Exhibit B: I also saw through fucking steers with hot dudes in blue aprons and cut my own steaks.
This Week in Comedy
I'm performing all over the place this week
Tonight: 8pm The Layover in Oakland then 9:30pm 50 Mason in SF- FREE!
Tomorrow: 8pm The Brainwash Pajamarama- FREE!
Thursday: 7pm I host Comedy & Cocktails at The Purple Onion SF – FREE!  10pm Tween-Age Wasteland Show/OFF Club 93 SF – $3
Friday & Saturday you can see me in the streets of SF mouthing off to strangers, chinese ladies on the bus, bartenders and friends.
Sunday: SF COMEDY DAY at Golden Gate Park. 5 hours 30 comedians. Totally awesome. I'm not performing but I will be getting high on the lawn with my friends. You should come. It's gonna be sweet.