I vacation better than you.
Exhibit A: Pastrami + Corned Beef on Jewish rye with mustard and pickles from Pico Kosher Deli. Consumed at 11:30 am on a Wednesday in a park.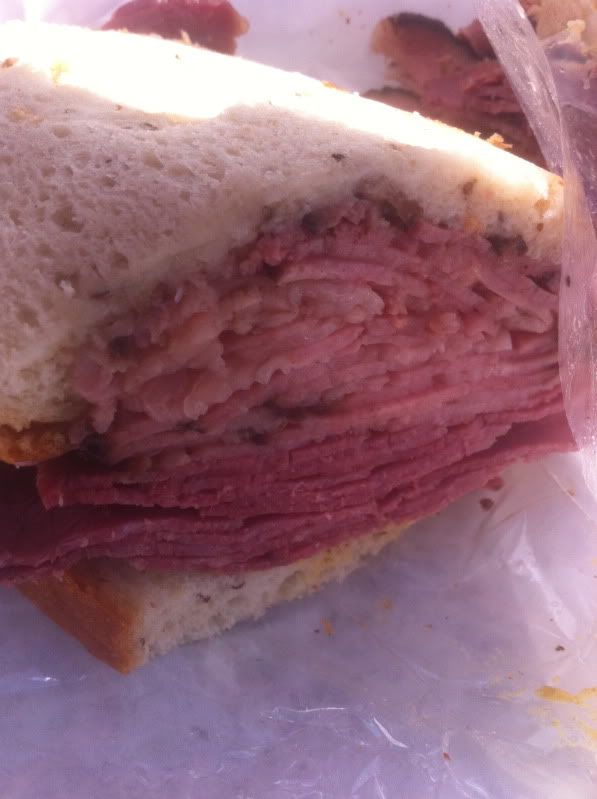 BTW: This is what parks look like around 11:30 am in West LA. It's nothing but latin american nannies with strollers occupied by Jewish or Hapa toddlers.
Exhibit B: I went to Doug Loves Movies at the UCB Theatre. It was super fun. I don't have any pictures of Doug or the show but I do have this: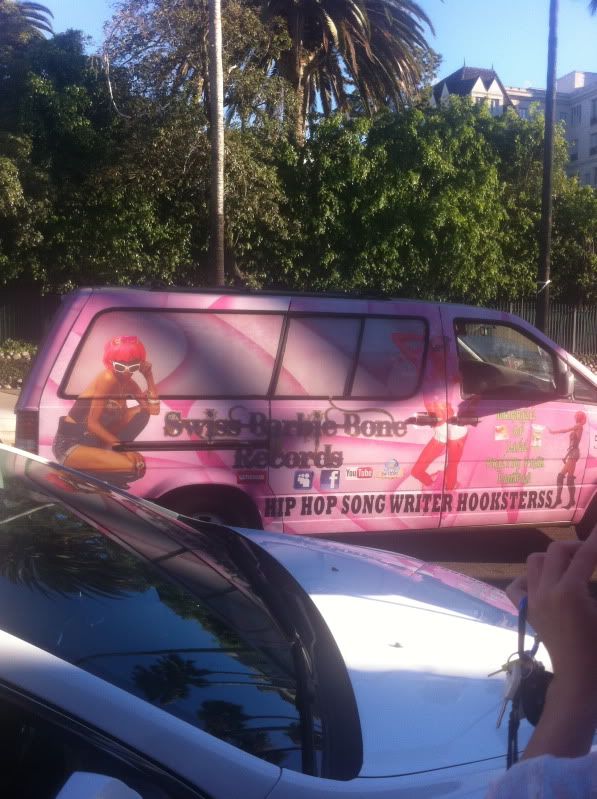 "Hip Hop Song Writer Hooksterrs" I wanted to know what this phrase meant so I searched YouTube.  WATCH THIS SHIT. Swiss Barbie Bone is an amazing talent.  I've never seen anyone work a hallway like this. She like a cracked out Nikki Minaj meets Bootsy Collins meets Mac Dre meets a less talented Silk-E. She's amazing.
You can talk about her because she don't care what you say, what you think or what you feel. Life is real.
*Also pictured in the background, Scientology Celebrity Center.
Exhibit C: Pictured left to right: Me (very excited), Richard Simmons (dressed in a cop uniform!), my friend Beth and a shirtless Coach. Taken immediately after our Sweat class at the Slimmons studio. It was pretty much the best $12 I spent all week. Here's video from our awesome class.
Exhibit D: I saw this disco pigeon do the hustle.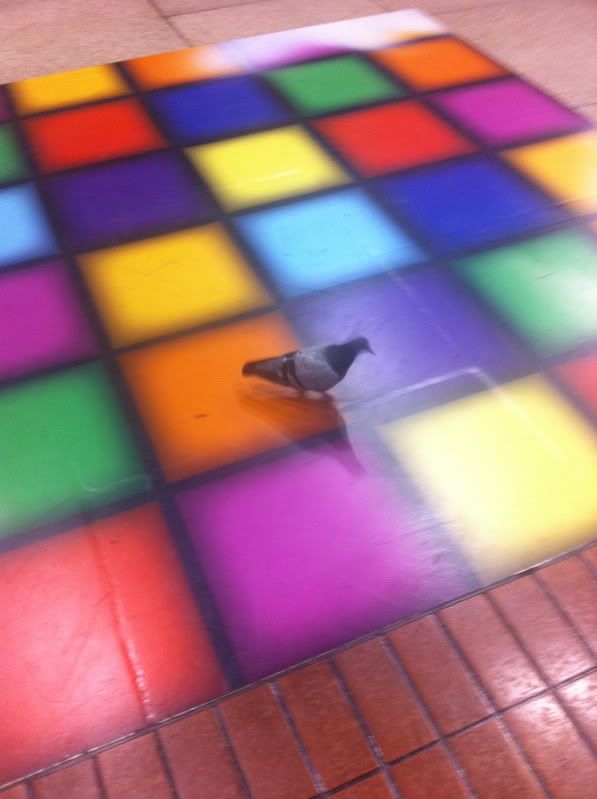 Exhibit E:
Here's a list of celebrities I saw and a few comments on the context
1. Mike Rowe from Dirty Jobs – sitting first class on Virgin from SFO to LAX talking to his seat mate, "I get a producer credit, I get a host credit….I get all the credits"
2. Nasim Padrad - at Meltdown Comics for Comedy Meltdown* with Jonay Ray. She was disturbingly beautiful. She looked like a porcelian doll. She was with this HUGE goomba who I presume was her security guard.
3. Tom Waits - my personal favorite spotted in Rite Aide. I startled him as I came around the corner into the isle he was shopping in. He was bent over looking at concealer. We made eye contact. It was weird and awesome.
4. Rivers Cuomo - You know. Lead singer dude from Weezer. He was at Swingers late night just like every other wayward hipster including me evidently. All I wanted was a milkshake. It was oreo and it was delicious.
*Meltdown was a super fun show Louie Katz (talking about how the Bay Area makes you ugly), Myq Kaplan talking about taping his appearance on Conan and not talking about his spray tan, Marc Maron talking about anxiety and being an asshole (so yah, just being Maron) and Brendan Walsh talking about sweet pranks and how awesome he is to hang out with (duh).
Exibit F(uck Yes): I saw Dolly Parton TWICE in TWO different cities. This was the view from my seat last night at the Concord Pavillion. Literally EVERY picture I took looks like this. I always knew she was special but now I know she really is other worldly. Look at the mere mortals behind her. They photograph just fine. But Dolly….Dolly can't be captured by just a regular old camera. She's too sparkly. Pure white light.
Next week I'll tell you all about shitty waitresses, Chinese children's tourist groups and other stuff that pissed me off in LA.
Come see me do stand up NEXT WEEK AUGUST 5TH 10PM at the PURPLE ONION
It's gonna be SUPER funny ladies looking foxy. Don't miss out.