and now I present…
Comic-Con 2010
• Someone got stabbed in Hall H this year.  You can thank nerd rage for providing this little gem: ‎"The suspect was later seen being led away in handcuffs. He had on a blue 'Harry Potter' T-shirt."
• "Comic-Con was AMAZING! Some asshole in a midevil knight costume let me treat him like a fucking  human pinata but instead of candy, it rained emasculation and indignity"
•  The album title Teflon Don makes a lot more sense now.  Mr. Rick "I'm A Boss" Ross was keeping it magnificent all over the line for the Walking Dead panel. He sniffiled, "But I'm a boss…." when the dude came out and told us no more were being let in.
• My favorite overheard quote of the weekend: "You don't happen to know where Thor's hammer is by chance do you?"
• Other awesome quotes:
"Take THAT Tonya!"
"I've eaten more pretzels and nacho cheese dip than last year!"
"Dude…..that's soooooo many Leias"
"Oh, what? Sorry I was just looking at Olivia Munn's butt"
"I HAVE a girlfriend now….NO! Real Life, not Second Life!!!"
"I wouldn't want a hug from that guy ever….I don't care if it IS free"
• Favorite product: Shirtless Kirk Cologne. Set Phasers to Stunning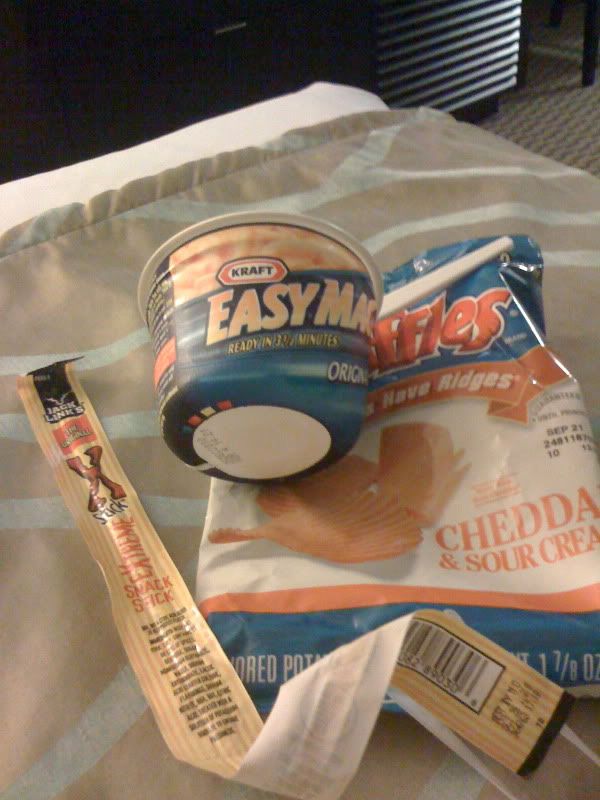 This was an actual meal I consumed. I'd like to say it tasted good. It did not. When it's 3am, you're alone drunk on Jameson in the hotel pantry you tend to make poor selections usually rooted in something misguided logic like….color. These are all packaged in orange and blue. Should taste good right? WRONG.  One of these items was shop lifted. I promised my brother I'd steal something. Are you happy now?
• Ballers only!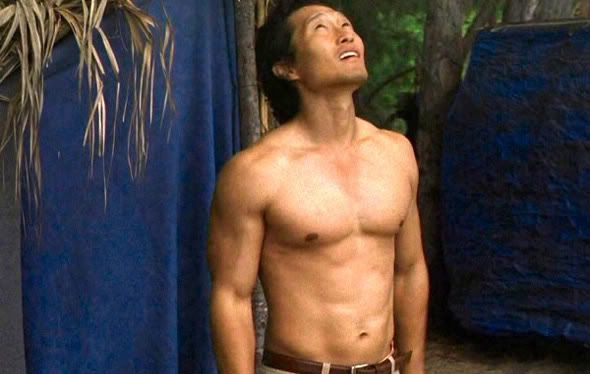 Someone fucked up and let me into a party on the rooftop at the Hard Rock Hotel for the movie The Expendables.  After my fourth free Jameson, I decided to brave the douchebaggery and head to the restroom. Whilst wading through a sea of rouched mini-dresses and Ed Hardy formal wear, I spied Daniel Dae Kim aka Jin from LOST. I freaked out for two seconds but stayed focused. I needed to pee and walking up to Jin at a party like this wasn't a good look. I eye raped him for a few more seconds then went about my bathroom business.
Lucky for me and unlucky for Jin, we ended up exiting the bathroom at the same exact time. We made brief eye contact and then he proceeded to walk down the hall towards the party. Ol' drunk vagina brain took over and instead of letting him walk away, I decided it would be a good idea/acceptable to grab both his shoulders from behind, lean in and slur into his ear "OH MY GAWD, I LOVE YOU!….On LOST….I love you, on Lost. You are so great….on LOST. I love you." He was gracious not freaking out as a complete stranger squeezed the shit out of him and refused to let go all the while uncomfortably close talking spraying whiskey scented compliments directly into his ear/neck. He thanked me a few times while he wiggled out of my clutches. When he finally shook free one arm I realized out loud, "OH MY GOD, I'M TOUCHING YOU….I'm so, so, so, so, so, sorry." He thanked me again, said "It's OK. Have a good night" and then proceeded to walk away as fast as one person could without running.
This is how one should NOT to talk to a celebrity. I'm sure Jin is somewhere telling the same story "Dude, I got accosted by a drunken she-nerd at the Expendables party. I'm so fucking glad LOST is over. This Hawaii Five-O reboot is just what I need."
**special thanks to the Hand of Loom for awesome pictures