Yeah. I know. It's 4.20. Guess what? I don't give a fuck. I don't need a special day to celebrate weed smoking. 4.20 is for amateurs, the unemployed, college kids and old guys who think wearing a 420 shirt will actually garner them access to unattainable Girls Gone Weed pussy.
I am a highly functional stoner who refuses to align herself with most mainstream weed culture. Shit is just embarassing.
And now for something new – I'm write a lot of weird notes to myself to help me remember shit I see that I want to write about. I've decided to start posting some of this stuff here. These are all things I've jotted down but haven't fleshed out, cannot remember the context or just sound funny on their own. And away we go…..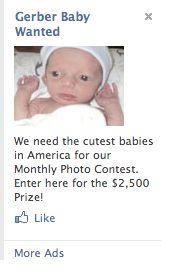 Look at this fucking ugly baby. Way to keep it ironic Facebook.
• Dear Koko -  Your first floor smells like vomit and vagina sweat.
• Shittiest Fortune Ever or Most Relevatory Fortune Ever?  "Need some adventure and enjoyment? Take a vacation."
• The water in these bathrooms is so hot, it would scald the skin off Satan's hands.
• A cop questions a dog with a backpack tied outside a liqour store. What's that in your bag son? Are you carrying any weapons?
• The Mission is turning into a Grateful Dead parking lot.
• Khia's Guide to Making A Music VIdeo
1. Song with an endless hook
2. 4-6 outfits from sexyhalloween.com
3. Access to clean basement apartment with furniture from Rent A Center
4. Access to top of the line consumer grade digital camera and iMovie
5.  Flash the song name and your name on the screen as many times as possible in your favorite font treatments from iMovie
6. Diss Trina a minimum of 12 times including at least one mention of her diseased lady parts.