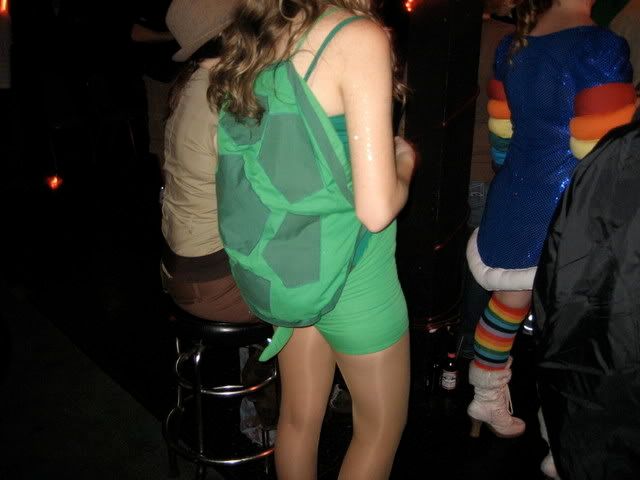 Halloween Hoes: Halloween is when the freaks come out. It's the international holiday for hoes. It's the one day a girl can let her inner-ho hang loose. She can wave her ho flag high and proud without fear of being misunderstood or god forbid unnoticed. The "sexy" costume industry is booming – they've got just about every costume you can imagine all "sexy-ized" for your hoe's pleasure. I've seen everything from "sexy" Cop to "sexy" Rainbow Brite to "sexy" Maid and evidently now they even have "sexy" turtle. Yes. SEXY TURTLE. Now I don't know who the fuck decided that turtles should be "sexy-ized" but the costume exists. I saw it on some skinny confused hoe in Chico. See it up there? WTF is going on people? SEXY TURTLE? What's next Sexy Bison? Sexy Flamingo? Sexy Jack OLatern, Sexy Darth Vader? Sexy Pac-Man?? Don't worry because some of those actually exist. Click and see the horror. While you are scrolling on that last link, be sure to scroll down and see the difference between the Queen of Hearts and the "Sexy" Queen of Hearts costume or the "Satrburst" and "Sexy Starburst" — it's pretty hilarious.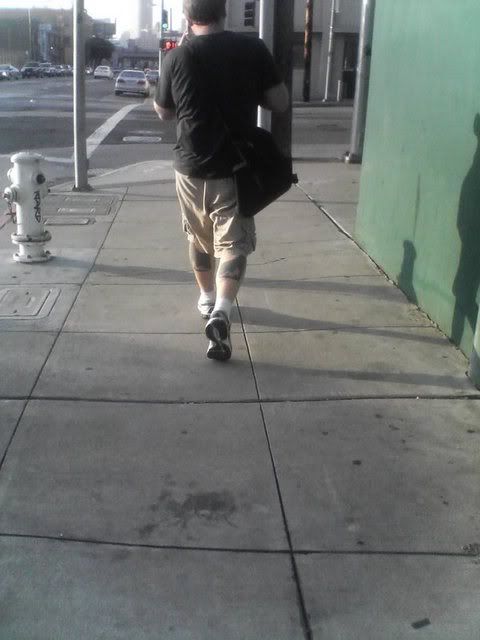 Stupid Tattoos: Sometimes you see tattoos so stupid it's hard to believe that they are real. I saw this dude last Friday as I left my office on my bike. In case you can't make out what's going on down there, Ive created a cropped close up.
Click here
Um, yeah. It's what you think it is. Dude has decided to tattoo mud flaps adorned with the iconic naked stripper silhouette onto his calves. For reals. This guy is an asshole. I know this because he has those tattoos — no one stopped him. Not a friend, not the tattoo artist, no one. He's got that shit on his body for life. FOR-EV-ER. I wish he was fatter because I've got about a million "your ass is like a Mack Truck" type jokes rolling through my head but they aren't really working. But whatevers, look at that dumb shit. What a fucking retard.
I saw his legs as I rode my bike by him, about 100 ft later I realized that I couldn't go on with my business until I got a picture. I doubled back and followed dude for about 2 blocks until I was close enough to snap this. That's right I took this picture with my phone while riding my bike. Whatyouknowaboutthat? Im fucking talented.
I live South of Market in San Francisco where Bum Shits St and Abuse Your Girlfriend After The Club Ave meets Junkie Shooting Gallery Way. It's really a lovely little part of town. My landlord describes it as having a lot of "San Francisco color." I've come to learn that the color is mainly brown, sometimes a brownish-yellow. About 3 days out of 7, I step outside my house and am greeted by the familiar scent of shit or some days if I'm lucky, the pungent, yet classic shit/piss combo. The scent is commonly accompanied by an actual real live dump often times with toilet tissue or an old t shirt stuck right there in the poop pile. Every once in a while there is a shit spray of sorts on our garage that leaves me with a sense of awe. I mean, I can barely take a shit in a public bathroom. I can't even imagine dropping trou on a public street right underneath someone's window, spraying booty butter for all the world to see. Bums are amazing. What's even more amazing is that all this scat talk is totally normal to me and most San Franciscans but in Eastern Idaho, wayward shitters are prime time evening news stories worthy of receiving sensational nicknames like "The Phantom Pooper." I can't even get my landlord to spray down the shit stains once a week and these fools in Idaho have a fucking stake-out and a citywide task force dedicated to finding this "Pooper" WTF? The only thing missing from this news story is an "amateur sketch" like they had in that Leprechaun story from Mobile.
Player of the Week:
Phantom Pooper of Eastern Idaho – While I'd prefer to live on a street that doesn't smell like dookie, I've really got to hand it to the Phantom Pooper. I hope he keeps on pooping and stinking up Eastern Idaho. I find joy in the horror that his "work" has been creating. Maybe he can find some fellow poopers to join his cause and he can travel through the Midwest defecating under freeways spreading his dirty, dirty seeds like Johnny Appleseed.