The theme this week is quick and dirty. Short bits of hate for rapid consumption.
Is it just me or does Katie Holmes look like one of those ladies stuck inside those pens you get from French novelty shops? I sorta wanna turn my computer upside down to see if the dress slips off and shows me her huge grandma bush.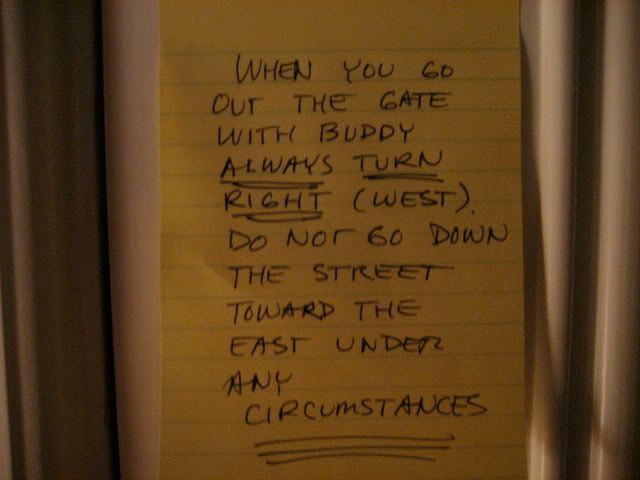 I wanna be this rich. This is an actual note that was posted next to the front door of a big fancy house I broke into. Juuuuust kidding. I didn't break in, I was invited, sorta. The point is not how or why I was in the house but rather these people are so rich they can make absurd demands like this via post to their "help." What I want to know is what happens to Buddy if by chance you go left (east) when you leave the house? Does he impload? Does he go all Kujo? What if you are holding very important documents and a big gust of easterly wind blows them out of your hands? Are you allowed to run after them or should you still proceed west around the block with Buddy until you reach the corner again? If I were this rich, I'd post obnoxious notes like this all over my house just to fuck with the help.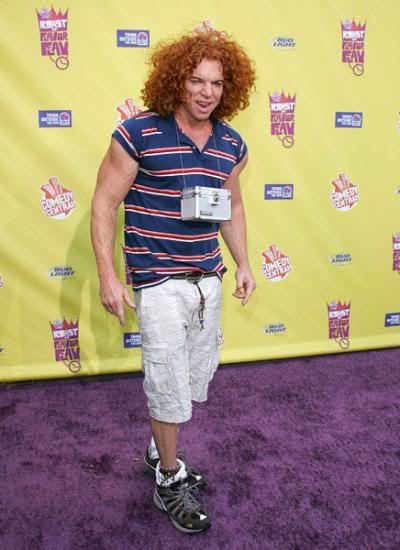 Here's the thing, Carrot Top is probably doing alright financially now. Obviously he can afford a shit ton of 'roids and an eyebrow waxer, why not invest in some new clothes? Where did he get that shirt? By the size of the sleeves it looks like its one from his early days when he was just an annoying comic who used too many puns and gimmicks in his act. Is that an anklet? Just saying.
In related news, how awesome would it be to see a battle of the 'roids starring Carrot Top and Bonaduce?
Jury Duty: I got called for jury duty last week. That's why I didn't post. I spent like 3 days in a court room for jury selection for some boring ass trial. Why can't I get called for jury selection on shit like this? What I wouldn't do to be on Kells jury! Can you imagine how awesome that trial is going to be? I have no idea how they intend to give Kells a "fair and unbiased" trial. I mean it took the city of SF 3 days to weed through 70 or so people for some run of the mill criminal case. They were asking us the most retarded shit "Have you ever known anyone or you yourself been a victim of vehicle theft or vandalism." For real. They asked us that. My response, "Um well, this is SF. When I had a car, it was broken into about a billion times. In fact, my friends called it the Bum Motel because I eventually just gave up and let them take over. It was easier that way" I wonder how the intend to find people who don't have any prejudices against black people, famous people, sex criminals, people who pee, ect. They need me on that jury dammit!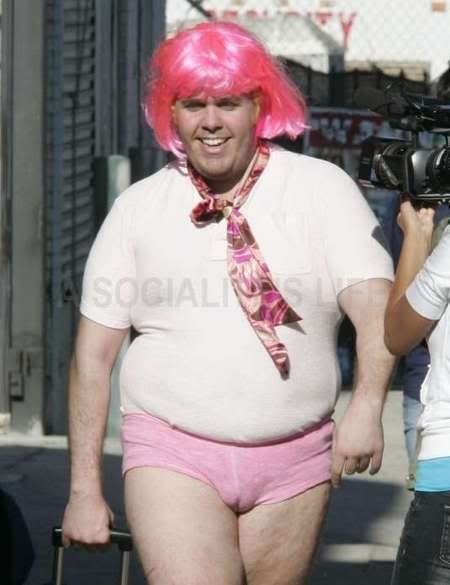 Honestly, I don't even want to know the back story on this one. The picture alone says too much, if you know what I mean. Dude is totally obsessed with his own celebrity. He continues to play himself daily. Has he learned nothing from blogging the life stories of attention whores? Perez is one lip gloss application short of morphing into the 2007 Bobby Trendy. If he blogs about himself one more freaking time I'm going to fucking scream.
**picture lifted from A Socialite's Life – since I was writing about Perez I thought it appropriate to "borrow" some images without permission.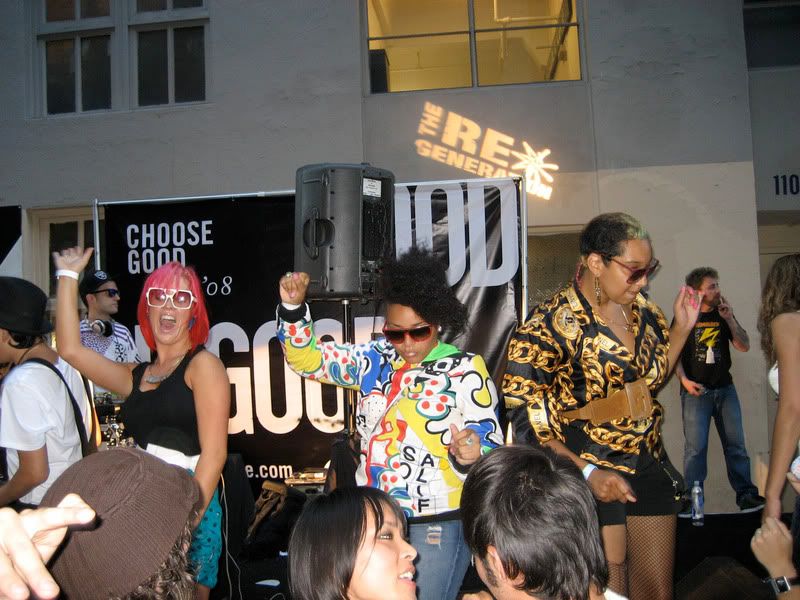 I can't decide if these three bitches are my heroes or three reasons why the 80s should have died and never, ever, ever came back. Before I move on it's important to point out that these were not taken at a costume party. They just rolled out like that. On purpose. Part of me applauds their "I don't give a fuck" attitude (as evidenced by the um, creative clothing choices) and commitment to having a good time (as evidenced by nonstop dancing and stage whoring). The other part of me was overwhelmed with hate and wanted to yank one of them by the ducktail and demand a fucking explanation.
I'm not lying when I say this broad here was wearing an outfit I had in the 7th grade. F'reals. I had those same fucking shorts. I bought them from Wet Seal in the mall. I had a shirt similar to the one she's wearing but it was less slutty (or maybe my boobs were smaller). I even had that fucking belt. Mine was black. I'll tell you what I didn't have though — a big ass nameplate necklace that read "BOOZY" and a nasal cavity full of cocaine. This bitch had both of those on lock.
I literally spent 2 hours transfixed on these hoes. Couldn't take my eyes off them. My buddy Serg leaned over at one point and told me "I think those bitches rap or someshit…it's on some wanna be Salt N Pepa throw back bullshit" I can't confirm or deny this bit of info but if anyone can send me a MySpace page or some proof that there is a "reason" for this look I'll give ya $5.
Player of the Week:

This is what I'm fucking talking about. This is what reality TV should be about. Mutherfuck Charm School, Mutherfuck Age of Love, Mutherfuck Big Brother, Mutherfuck Wife Swap. It's about fucking time we got some of this hot tranny action on this side of the pond. According to DListed this shit is coming stateside. I can't wait to see some asshole loose his shit when he finds out he's touching a man-made poon. Good job Fox. Real Good Job.