Hyde in LA: These mutherfuckers denied the awesome Tara Reid entrance but let in skank factory Paris? WTF? Don't you know how to make your club awesome? Everyone in the US Of Freakin' A has been waiting for a drunken Tara Reid come back and these assholes deny her entrance thusly keeping her away from the booze and a potential bitch slap from Paris? Bad move door guy. Bad move. I can't believe this crap. It's a freakin' travesty. Am I going to have to single handidly get her back on the booze train? Dude. Don't make me do it. Once I get my mind on something I usually accomplish it. New life mission = Find Tara and bring her back to the light. Oh and buy her a new hot iron — her shit looks fuuuuucked. Oh also throw out ALL her blazers. Blazers on busty women make you look all square on top. Duh. But don't worry baby — I still love you Tara square tits and all.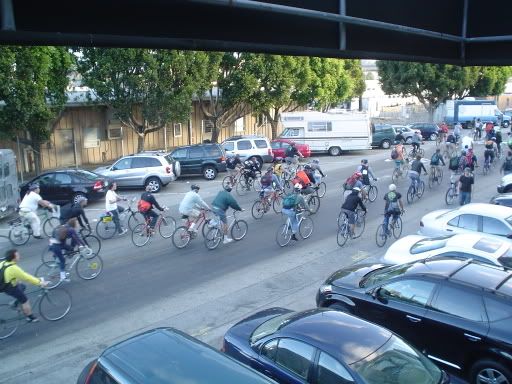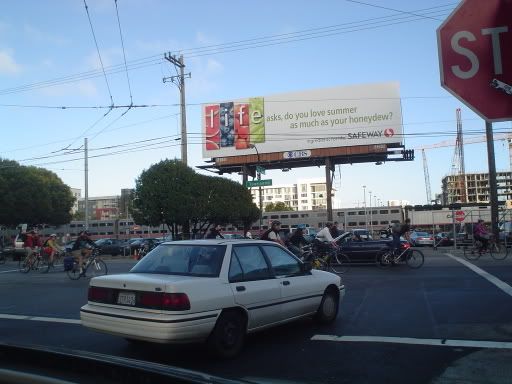 Critical Mass: One less car. If I see that sticker one more time this week I am going to scream. I saw a sticker not too long ago that read "One less bike." and it ruled. I tried to take a picture but it was too dark. Okay so it wasn't dark, I was just drunk and operating my camera phone seemed a bit more complicated than usual. Shit kept coming out blurry even though neither I or the car was moving. Okay, so maybe I was swaying a little bit. I was drunk. Shit. You try and stand still after about 4 Choppers* What was I talking about again? Oh yeah, Critical Mass. I thought it was just hippy ass SF that enables and endorses this kind of bullshit but evidently it's an "unorganized coincidence" a global movement. The jist is a bunch of bike fags get on thier fucking "fixies" and then fuck up everyone's couch by riding en masse through the city of San Francisco at rush hour. They block entire intersections with shit loads of bike riders forcing traffic to stop as they continue forth with thier righteous display of non-driving. They dress up hella lame a la Burning Man and decorate their bikes and shit too. It's basically an exuse to wear a pink thong and blast "Eye Of The Tiger" on the radio fueled by potatoes and magic crystals they grew next on thier window sills. It happens a few times a year and always goes past my office. This year I took it to the streets – took pics and yelled "GET A CAR HIPPIES" which is funny because I don't even have a car or want one. In fact, I am not against riding bikes or saving the environment I just hate dumb righteous assholes. For the record, every fucking fixed gear head I've met thinks they are the fucking shit because they don't have breaks and they ride a bike in the city. Oh also when I'm dead ass tired on a Friday night, trying to get to Serrano's for a slice — I do NOT like to be delayed.
PLAYER OF THE WEEK:


Once again Thug E. Fresh proves he is the boss of all bosses on the internet grind with this little gem here. It is NOT safe for work so be careful. It's hard out here for a pimp. The internet is the new street and this young entrepenuer is not going to get left behind. He is jumping on the digital pimp game. He's looking for "some real money makers." He wants you to know he "shines like diamonds" and invites you to "shine with him" Bottom line is "if you like dick and you like money" you should hit him. If that's not convincing I don't know what is.
*Jameson over rocks in a bucket glass with a Budwiser back. Learn it. Love it.