So as of late I have been running into a shitload of really unhelpful retail people. Let me begin by saying, I've worked retail. I know that shit sucks. People come in all the time and ask fucking retarded questions and generally act like assholes to "the help." That is why I usually go out of my way not to be a nuisance and to help myself unless I really need something I absolutely cannont find. Oh and I am super fucking nice in restaurants too. I've also worked in that industry and there is nothing worse than a table full of dicks who change thier orders or demand unreasonable items or are think just because they are paying you as a waiter are supposed to turn into Mr. Benson.
This week's edition of Hater Tuesday is dedicated to all the shitty retail help and waiters of the world. I hope you get fired. Soon.
Snobby Retail 'Mo: In 3 out of 10 retail shops (of course in LA and SF that ratio moves up depending on the shopping area) there is one Snobby 'Mo (yes I mean homo) who is convinced he is better than his minimum wage mall job and that your presence in "his" shop is unnecessary and a waste of his time. He usually rolls his eyes immediately upon your entrance and as soon as you touch something he releases a loud sigh that can be heard over CeCe Peniston's wailing. You see he's spent all day folding that sweater on the top of the pile you are touching and he is NOT going to fold it again. God forbid you decide to purchase something because then he is really going to be pissed off. He is mad for a few reasons: 1. He has to go all the way to the back of the store behind the counter where he cannot stare into the body of the mall and gawk at the dudes in the GNC kiosk. 2. Your choice of purchases are ugly and therefore a waste of his time. 3. Your boyfriend is crazy hot and you a female are with him thus keeping him from his gay clutches. 4. He actually has to work now.
Too Busy Being Plesant Not Enough Time Being Smart Guy: This is really a tragic individual. He's so fucking nice. Like sugary sweet nice. But the buck stops there. He can't do his job for shit. He will take your order, smile, exchange pleasantries but when the food comes that shit is wrong. Like you ordered a salad with poppy seed dressing on the side and he just brought you a cheesburger and fries wrong. When you tell him it's wrong you feel like an asshole because he's so fucking nice about it. That is until he comes back two minutes later and says, "So you wanted the tuna melt right?" Then you realize it doesn't matter how fucking nice he is, dude is a retard and can barely hold a pen. You settle on a tuna melt even thought of mayonnaise makes you want to hort.
Silent Nervous Teen: My friend Dave White has written about the Teen help before so I know he will feel me on this. God bless a working teen. Lord knows I have respect for a young person with the drive and responsbility to get a job and do for self. However, if you are not capable of speaking to people that are not related to you, work on that first, then get a job. It is so frustrating to enter a retail shop, go to the counter, ask a question and just get stared at. Or worse mumbled at. When you ask them to repeat themselves or speak up you can see the terror in thier eyes. They whole "Don't talk to strangers" mantra is still in the process of deprogramming. A simple exchange that should take about 4 minutes to transpire can be stung out into a 15 minute ordeal due largely in part to Nervous Teen's inability to communicate or make change.
Ghetto Botch Wit A Job Her Baby Daddy Made Her Get: This is a love to hate type of thing. One of my favorite stories ever involves GBWAJHBDMHG, it was told to me by my dear friend Coach. It goes a little something like this, Coach goes into KFC to purchase a bucket of wings for a party he plans on attending. He is standing in line behind a gentleman who is placing an order for a large family style dinner bucket. The woman taking orders has long, long braids, extremely long nails and perfectly applied make up. She is using her knuckles to press the keys on the register so she keeps instructing the man to "Hold up" or "Slow down, dang" or to simply say "Whuuuuut?" The entire time she is looking over his shoulder or to the left of him or just right through him. She finally manages to get the order down in the register and then she asks him the cherry of a question, "Is that for here or to go?" The man visibly annoyed at the sheer amount of time it's taken to place the order, looks around and then looks back at her and says "Um, what do you think? I'm here alone and I just ordered a family pack." Without missing a beat, she flips her braids back, stares at her fingernails and says "I don't know yo' life…is that for here to go!" That my friends, is the essence of GBWAJHBDMHG. She does not give a fuck and she certainly does not know yo' life…nor does she want to.
PLAYER OF THE WEEK: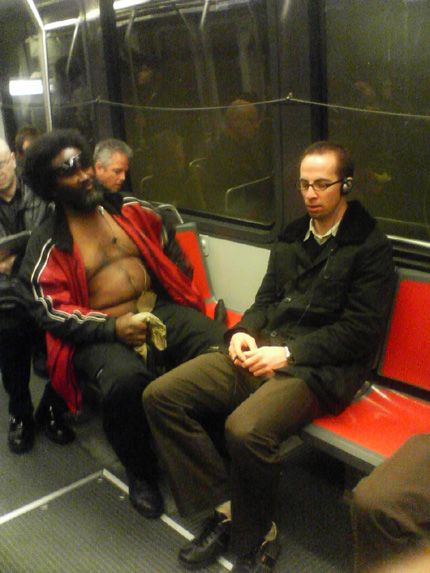 Look at this mutherfucker right here, he does not give a fuck. He don't need no fucking t shirt. Sure he's got one, it's that grey/brown rag that's wadded up in his fist. What's really fucking important is that afro pick. Let's be real, a mainey individual like this needs to maintain his fro. That shit is perfectly picked out and activated. And I do mean perfectly. He's got the kung fu grip on that bitch just in case someone, like say that square ass pretending he's in his "happy place" and not sitting next to a shirtless 300lb black man with a scarred belly, tries to get wise and snatch it from him. No one is taking this fool's afro pick. No one. Now here is where it gets super fucking awesome. You will notice dude is putting something in his pocket. Take a moment, look at his hand. What you can't see here but what absolutely and I swear on my grandfather's grave that this shit went down – dude took a call. On a cell phone. A shiny ass Treo cell phone. That shit rang and rang and rang, then dude realized it was him, he pulled out a shiny ass Treo and answered in a deep voice "WORD." It was at this point that I started scrambling for my own cellphone, struggling to pretend like I was "texting" so that I could snap a photo of dude on his Treo without getting my ass beat. No such luck. I missed the phone call by mere moments. Luckily I did get this picture. Moments later the mainiest man alive stepped off the train onto the platform and was gone. Oh and don't worry because that IS an earpiece danling from his face and laying across his naked chest.