This is the last Hater Tuesday of 2005 folks (there is technically one more Tuesday but I go strictly by the Hater Calendar which requires one Tuesday off at the end of the year for boozing.) It's been a good year. Lots of hating has gone down and I can't fucking wait until 2006 to open a fresh page in my hater notebook for you bitches. Now enough bullshitty self praise and on with the show.
I've decided to do a full post of player of the week. I found too much mainey shit this week so we got multiple players to congratu-hate.
Oops I Gave You The Clap e-card:

This is for real. Honestly, not even Vice could make this shit up. All I'm saying is, if someone gives me the clap, I would hope that they would at least have the decency to call me up and tell me themselves. However, now that we got so many mother fuckers online dating/whoring and shit, I suppose an e-clap card was only a matter of time in the making. What's next "Yo, I'm knocked up. Send Abortion money" e-card?
Korean Girl: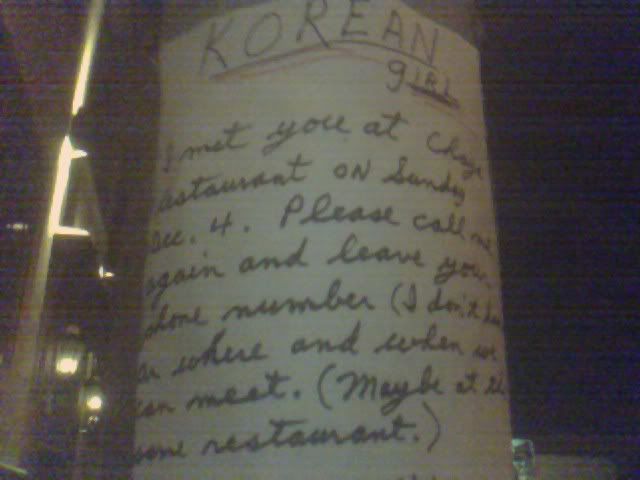 click here for close up
This is some next level 2008 shit right here. This dude has no fucking time for Missed Connections or online personal ads or fucking saving phone numbers. He's over all that punk shit and taking it to the mutherfucking streets with a sincere, hand written, hand duplicated and applied street team campaign. I mean really though how could you possibly resist a plea for love like this. I seen about 15 of these all over my hood. I had to take one down the other night just so I could scan it and post it here. Peep this shit. This is REAL game. Fuck remembering a girl's name when you have a description like "Korean Girl". Oh and fuck leaving a phone number. If he spent time making posters she can at least break bread on a carrier pigeon or some sky writing right? Live the dream, Mike. Live the dream.
Young Jeezy Breezies:

These two lil breezies just changed my entire outlook on Young Jeezy. Jeezy is now my shit. Also, I want to go back in time so I can be 13 and make friends with these girls. Lil girl on the left has a mean hard face, she shows great potential. On the real though, in 4 years or less these two chicks are gonna be ass up on a couch at a house party in Pinole playing donkey with every fool in there. I just know it. That much Jeezy at a young age will do it to you. I sorta want to send them a couple of 40s as an appreciation present. Gyeaaaaaaaaaaaaaaaaaaah.
Young Jeezy: Since I just gave it up for Jeezy, I feel like I can now say that the Snowman wins best lyricist of the year. "patty cake, patty cake, microwave." really took it there, followed closely by "I'm emotional, I love my block. I'm emotional, I love my glock" He's got the quotables for sure. Feel free to post your favorite Young Jeezy-ism in the comments.
Home Video Posts/Sites: My homie Thuggy Fresh aka Rez were talking yesterday about how there are going to be more and more video blogs hosting shit like you see above. You Tube and Google Video have loads of videos you can search with key words. After Christmas you know there will only be more. Every kid who got a video camera, digital camera or camera phone with video capabilities is gonna be posting even more silly shit. That doesn't even cover the people who shouldn't have camera's to begin with. Thugs and cameras don't mix. Not even wanna be thugs and cameras mix. We spent some time perusing and found some fucking keepers. It's amazing what people willingly post on the internet these days. Anyhoo here are some links to ones that tickled me and deemed worthy of mention.
Kids A-Giggin' These little players are going dumb in the living room until the older brother comes in and pulls a Chuck Norris on they ass and then goes dumb his damn self. Play on player.
Don't Climb Fences When You Are Drunk:
This one is pretty amazing. I don't know where this happened but homegirl is looooooooooooooaded and evidently trying to climb a fence. Only God knows where her other stocking and her shoes are.
Baby G & Huffy Huff: Limo Status
Limo status mayne, what it do mayne? Daffy Duck my niggahs, that's what it is. Cartoon characters, you know what I'm saying? Who else can say they got a tattoo and pants to match? Kill scratch when I see scratch. Yaddidadmean?
Baby G & Huffy Huff: Limo Status Part 2
I thought the first one was on some shit then I heard Baby G come with the term "relaxeded couch" If you don't think I'm not going to start using that then you must be out of your fucking mind. These two videos exemplify everything that I love and hate about the Bay. It's fucking beautiful. Sexy ugly. You feel me? I mean Yaddidadmean? Off the yelzelbub. On the real.
So yeah. That's it. See you fucktards next year. You know you'll be back. Shiiit.